Early Education

Pre-Nursery Program
Early Childhood Education is a term that refers to educational programs and strategies geared toward children from birth to the age of two. This period is widely considered the most vulnerable and crucial stage of a person's life. Early childhood education often focuses on guiding children to learn through play. The term commonly refers to preschool or infant/child care programs.
Early Education Toddler program classes are the first time children spend time without their parents. A warm & caring environment helps students to take this step without additional stress placed upon the child.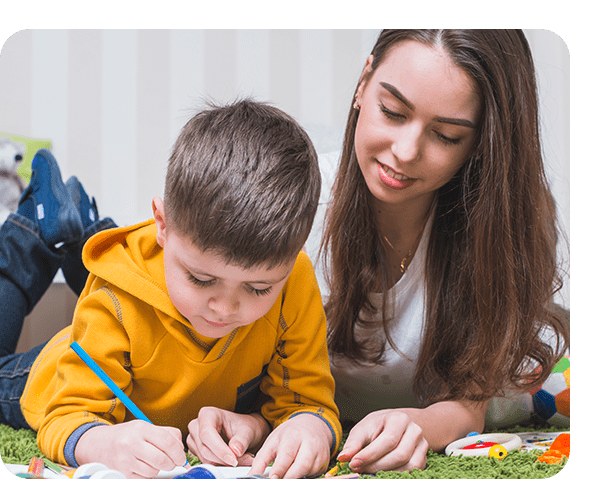 Learning through play is a common teaching philosophy for young children.
Children in Early education program learn both academic and social-based lessons. They prepare for school by teaching letters, numbers, and how to write. They also learn sharing, cooperation, taking turns, and operating within a structured environment.
Early Education Activities
Our teachers will support your child in a small class group with many chances for one-on-one interaction. We use the children's senses to stimulate their interest and increase their engagement in learning. Our extensive theme curriculum is used to teach topics such as Animals, Things Around the Home, and about themselves.
Art Activity
Language Activity
Cooking & Science Activity
Music Activity
Moment & Play Activity
Social & Emotional Activity
We worry about what a child will become tomorrow, yet we forget that he is someone today.
We also offer resources to support the social-emotional development, art activities for kids critically crucial in addition to developing core STEM skills. Check out more early childhood educational activities and resources below:
The K Learning Kids mission is to provide affordable, high-quality early education and childcare services for working families to ensure every child.
Reading & Writing
Reading and writing skills go together, creating a child better student.
Birthday Party
Kids build relationships at school and may set them up with life-long friends.
Healthy Food
Vitamins, minerals, and nutrients that child need in a day for healthy growth.
Worksheet Classes
Specially designed worksheets help children practice essential skills.
Special Education
The program teaches students so they can receive the education they deserve!
Activity Classes
Exclusive classes for kids to make life skills and overall grooming.